Latest News
Keep up to date with our latest news and announcements below:
We Are Now Recruiting
In conjunction with Norwich City College Apprenticeship Team we are now recruiting for an Apprentice to join our busy Office in Wymondham to assist our Contracts and Estimating Departments. Further details can be found here. Please contact Norwich City College Apprenticeship Team on 01603 773365 or [email protected] for further details or contact us directly on [email protected]. An excellent opportunity for the right person.
Linda Twyman Retirement
With a combination of happiness for her and sadness for us, the Company is announcing that Linda Twyman our Receptionist and Office Administrator retired from the business on Tuesday 31st August after 8 years of exemplary service. Linda joined the business in November 2013 and has been a pleasure to work with from the minute she joined the Company. Through some difficult times over the past few years Linda has always been someone the Company could rely on. Thank you, Linda, for your incredible contributions to our team. We will certainly miss you, and we hope you enjoy your future adventures with your family during your retirement.
Successful Completion of another extension at Bluewater Shopping Centre Kent
The company has successfully completed roofing and cladding to an extension for Zara at the prestigious Bluewater Shopping Centre in Kent for long term customer RG Group Ltd; this is the fourth project the company has been involved with at Bluewater following the successful completion of the extensions to the Arcadia, H&M and Primark stores in previous years. The project involves the supply and installation of Tata roof decking/Sarna roof covering and Euroclad/Kingspan wall cladding; all long-term trading partners of the company. The Project was commenced at the end of April 2020 and successfully achieved practical completion on time in July 2020.
Contract Award - Another Shurgard Store!
The company is delighted to announce that it has been awarded the roofing and cladding package at the new Shurgard Store in Barking Essex for Appian Construction Ltd which is clad in a variety of Kingspan KS1000CDW, KS1000MR and Topdek products. This follows the successful earlier completion of previous stores for Shurgard at Croydon, Hanworth, Hayes, Acton, Reading, Park Royal, Deptford, Harrow, Forrest Hill and Herne Hill. The Project commenced on site in June 2020 and is on schedule for completion in October 2020.
New Staff Appointment
The company is pleased to welcome Mark Glanfield to our busy Contracts Department in the role of Contracts Manager. Working closely with the management team, Mark will be responsible for the company's site operations and contracts management whilst overseeing the successful delivery of all Projects. Richard Plume Managing Director commented 'We are delighted that Mark has joined Gale Construction, his experience in this field, combined with his passion for the industry is a fantastic addition to our strong team and we all look forward to working with Mark over the coming years. I am sure he will have a long and successful career with us'
Another Senior Member of Staff Reaches Long Service Milestone
Paul Guyton, our Contracts Engineer, joined us in 1998 so reaches his 20th anniversary with the company this year. Paul's continuous support and hard work has greatly helped the company move forward while maintaining the high standards of technical excellence required to deliver projects in a timely and professional manner. Paul's progressive attitude and personal development with the introduction of new technology ensures that Gale Construction remains at the forefront of roofing and cladding design techniques.
New Staff Appointment
The company is pleased to announce the appointment of Jackie Edwards to the role of Accounts Manager. Jackie brings a wealth of experience from her previous roles in financial management within the automotive industry, and we know she will be a major asset to the company. We welcome Jackie and wish her a long and rewarding career with Gale Construction.
3rd Award Win at Prestigious Bluewater Shopping Centre
The company is delighted to announce that it has been awarded the roofing and cladding package of the forthcoming Primark Store extension at the prestigious Bluewater Shopping Centre in Kent; this is the third project the company has been involved with at Bluewater following the successful completion of the extensions to the Arcadia and H&M stores in previous years. The project involves the supply and installation of Tata roof decking and Euroclad/Kingspan wall cladding; all long-term trading partners of the company.
Successful Completion of 2 Shurgard Stores
The company has recently successfully completed roofing and cladding to a further two Shurgard Stores in Deptford and Harrow; both clad in a variety of Kingspan KS1000RW, KS1000MR, Envirodek and Topdek products. This follows the successful early completion of previous stores for Shurgard at Croydon, Hanworth, Hayes, Acton, Reading and Park Royal.
Wendy Slade Retirement
On Friday 30th September after 16½ years of exemplary service our Head of Accounts / Company Secretary, Wendy Slade is retiring from the business to emigrate to pastures new. Wendy joined the business on 1st February 2000 and has since then been a crucial part of the Company's success; through difficult times/recession she has always been someone the Company could rely on. Wendy's attention to detail, while keeping the broader picture in mind, has been invaluable. We are all very sad to see Wendy go; she has been a pleasure to work with and will be sorely missed. We hope that Wendy enjoys her retirement and wish her well for this exciting new chapter of her life.
BBC Silent Witness Studios Park Western Action
Gale Construction has just successfully completed the over roofing of the Silent Witness Studios and News Gathering Offices at BBC Park Western in Acton W3 for Interserve Construction overcoming various design, technical and logistical challenges. The Project entailed the installation of 3200m² of SpeedDeck 0.9mm thick stucco embossed mill finish aluminium secret fixed weathering sheets, insulation, a new vapour control layer and spacer system fixed through the existing roof construction to the original structure below. The building remained operational throughout the installation process although the work was carefully phased to avoid noise disrupting the filming of the new Silent Witness Series 20. All roofing materials were craned up at weekends when the site was quieter/safer so the BBC's operations during the working week remained unaffected.

Gale Construction used SpeedDeck® the original secret fix standing seam metal roofing system, with double interlocking ribs and clips ensuring strength and watertight integrity for this important Project. In the 40 years since inception SpeedDeck secret fix roofing has become a worldwide proven system that offers fast, simple installation, with excellent performance and design flexibility; further details can be found here.. http://omnisexteriors.com/roofing-and-cladding/standing-seam-metal-roofing/speeddeck/
Morgan Sindall Contract Award – St Martin's Plain, Norwich
Gale Construction have been employed by Morgan Sindall as specialist subcontractor to provide the KingZip standing seam roofing to the new 15,000sq ft St Martin's Plain Project in Norwich a new HQ for Howes Percival Solicitors – branded as the largest office development in the city centre for five years. The Project will consist of a new construction of a three-story building and the refurbishment of the adjacent grade two listed St Martin's building, which dates back to the 17th Century. Morgan Sindall has already commenced work on the site in the Cathedral Close district, which will remain under the ownership of Norfolk car dealer Bussey & Sabberton Bros. A spokesperson from Howes Percival had this to say about the new office. 'This office reflects our strong personality perfectly. It combines the best of both worlds with original features and character, alongside contemporary design and purpose-built office space. The building was designed by Norwich Architects Chaplin Farrant and it will be an exceptionally prominent building, in an outstanding location.'
Morgan Sindall Contract Award – Roseacres Primary School, Takeley, Stansted, Essex
Gale Construction are delighted to announce that they have been appointed by Morgan Sindall as specialist roofing and wall cladding contractors on the brand new building extension at Roseacres Primary School in Takeley Essex. The expansion of the school will accommodate an additional 60 pupils over and above its existing capacity of 150 pupils through the provision of additional teaching rooms and accompanying staff accommodation. The Project comprises of the design, supply & installation of Euroclad Vieo bespoke standing seam roofing, cladding, fascias and rainwater goods - designed by Sarah Wigglesworth Architects and due for completion in October 2015. Vieo sheets provide the aesthetic and charm of time-honoured materials like lead or zinc and are manufactured by Euroclad using the latest technology. We look forward to working with this renowned Client using this innovative product which will provide a sustainable aesthetic solution to traditional roof and wall cladding products.
Design Office Welcomes New Face !
As part of our ongoing expansion, we are delighted to welcome Design Engineer Steve Calver to our busy Design Office. Steve brings with him a wealth of experience drawn from a career working in design the construction industry and will be a major asset to the Company as we look to the future and reaffirm our commitment to quality design at all stages of the build-cycle. Welcome aboard, Steve !
Cross Quarter Abbey Wood - Update
Architect Collado Collins' major regeneration project in London's Abbey Wood is now rapidly approaching a successful conclusion, and has constituted one of the largest, most complex projects that Gale Construction have ever undertaken. Comprising the simultaneous construction of an 80,000 sq. ft Sainsburys Superstore and a 31 unit residential block, the project has presented some truly unique challenges in design, logistics and construction, all of which have been successfully overcome thanks to the outstanding ethos of collaborative working which we have enjoyed with our colleagues at the RG Group and Collado Collins Architects. The result, when the projects finishes in early summer, will be a major new retail facility for the people of Abbey Wood and a residential block which, due to it's striking and imaginative design, is destined to become a well-known landmark and talking point in this area of the capital.
Shurgard Self-Storage Facility – Park Royal
We are delighted to announce that we have been appointed by the RG Group as specialist roofing and cladding contractor for the construction of a brand-new facility at Park Royal in London for the leading self-storage chain Shurgard. The build, due to open late summer 2015, is a bold architectural statement by DMWR Architects, and takes advantage of Kingspan Panels' full range of premier cladding products, utilising the time-served, proven reliability of their KS1000RW panel on the roof, and an attractive, contemporary multi-coloured wall façade design clad in the Benchmark Evolution panel. To finish this imaginative cladding envelope design, the distinctive barrel-shaped gable ends are clad in KS1000MM mini-micro profile panels and coloured an eye-catching Altaris Red, making this structure a commendable and bold departure from standard warehousing design.
http://www.shurgard.co.uk/Park-Royal
Senior Staff reach Long Service Milestones
Two of our senior staff members are celebrating notable service landmarks with the Company this year. Managing Director Richard Plume completed his 25 years' service in February whilst September will witness our Senior Estimator David Poyntz notching up a remarkable 35 years continuous employment. Maintaining such levels of stability in these key positions throughout the years has contributed a major element to our success and the Company would sincerely like to thank both Richard and David for their loyalty and hard work, and look forward to the privilege of working with them for many years to come.
RAF Croughton Medical and Dental Facility - Contract Award
Gale Construction are pleased to announce that they have been appointed by Vinci Construction UK Ltd to supply and install roofing, cladding, fascias and rainwater goods to the new Medical and Dental Facility for the USAF at RAF Croughton. The work includes providing approx 1100m² of SpeedZip aluminium stucco embossed standing seam roof sheets, approx 200Lm of powder coated aluminium fascias/verge flashings and an Ashjack flat to pitch roof conversion system over the plantroom area. Gale Construction's work commenced on site in September and is due for completion in December 2014. This is the second Medical Facility that Gale have been awarded with Vinci UK and the USAF and we are pleased to again be working with such prestigious clients.
Cross Quarter Abbey Wood - Contract Award
Gale Construction have been employed by RG Group as specialist subcontractor to provide roofing, feature cladding and associated elements to the building's façade as part of this new build residential/commercial Project which will include a new 81,000 sq ft Sainsbury's food store, 5,000 sq ft of retail and commercial space and 220 new apartments. Richard Plume MD at Gale Construction, said "We have built a strong working relationship with RG and their Architect over a lengthy period in developing this scheme and are delighted to be able to bring it to fruition, the dynamic Collado Collins design will make this a landmark building in Abbey Wood and another we are pleased to add to our portfolio". Gale Construction commence on site in October 2014 and expect to complete their work May 2015.
Grant Award Leads to BIM Consultation
With Gale Construction's commitment to be Level 2 BIM compliant by 2016 now very much underway, we were very pleased to be the recent recipient of a training grant via the Technology Strategy Board's 'Innovation Voucher' scheme. This grant has enabled us to partner with BIM consultants from Leeds Metropolitan University to plan and implement our company-wide BIM infrastructure. Whilst the project is ongoing, this partnership has ensured that once completed, we will have a professionally designed and implemented BIM plan, enabling us to service the best needs of our clients and colleagues, and to participate fully and with confidence to the BIM ethos of shared expertise, which is central to the construction industry's vision for the coming years.
Continuous Improvement at Gale Contrustrion with ISO certification
We are pleased and proud to announce that after undertaking a comprehensive internal company audit carried out by UKAS accredited Auditors, Gale Construction have been awarded the prestigious ISO certification for its Integrated Management Systems. The company is now fully certified to ISO9001, ISO14001 and OHSAS18001, with the Auditors commenting in their final report that this was "An excellent Stage 2 Audit, the IMS is well embedded and maintained. Fully recommended for certification". With our application to become a member of the government's 'Constructionline' database of pre-qualified tenderers also recently approved, our commitment to continuous improvement has ensured that we will continue to enjoy our place amongst the elite of UK Roofing & Cladding contractors.
Addenbrookes Multi Storey Car Park Completed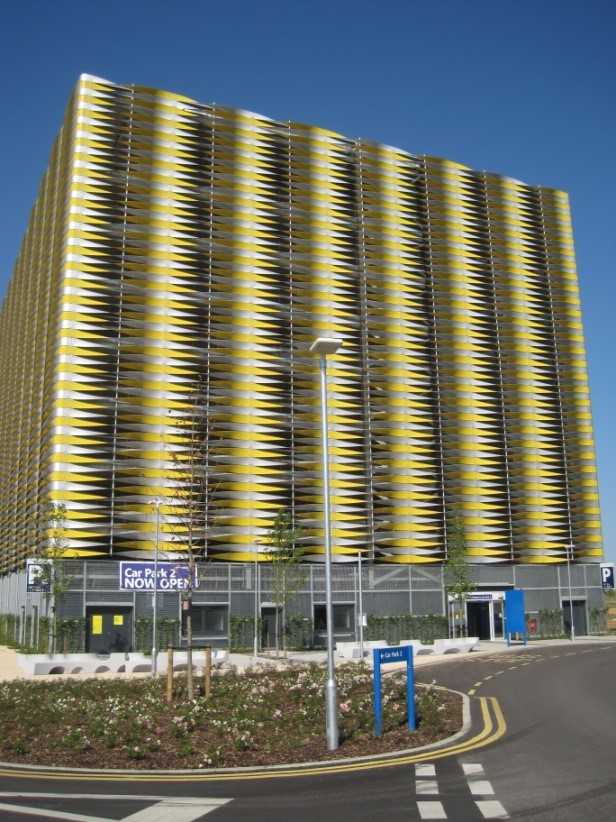 The new 1200 space new multi storey car park at Addenbrookes Hospital has been successfully completed for Vinci Construction (UK) Ltd. The work involved the supply/installation of 3500m² of SpeedDeck SpeedZip 400 standing seam stucco embossed aluminium roofsheets and 1000m² of vertically laid Kingspan KS1000MRx60mm factory insulated composite wall cladding. The roof incorporates a HydroStore Nutrimat Green roof system with a pre-grown sedum system on the southern slope and PV panels/maintenance walkway on the northern slope. The above-ground rainwater management system installed by Gale outflows to collecting tanks for re-cycling, making this one of the most energy efficient and environmentally-aware roofing projects we have undertaken.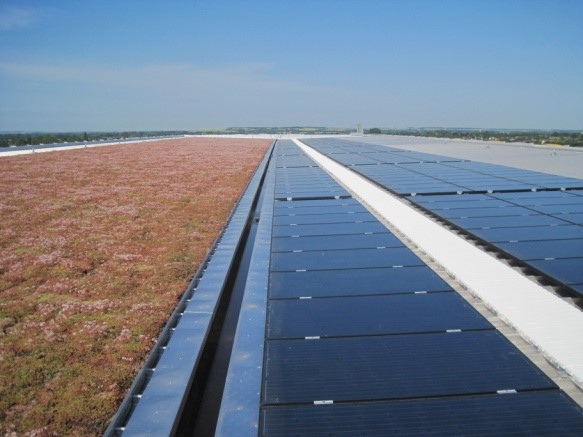 Silvermere Golf Club's New Driving Range gets a right Royal Welcome
HRH Prince Andrew was the guest of honour at Silvermere Golf Club's Grand Launch Weekend for their newly commissioned 2-tier Driving Range over May Bank Holiday. The Duke of York was fulsome in his praise for the speed and efficiency of the build, which delivered the spectacular, 100 metre long state-of-the-art facility in barely four months. Working as part of a small but well established team used to delivering quality builds to exacting deadlines, Gale Construction installed a full-cladding envelope comprising roofing, wall cladding, timber cladding, and full rainwater management & dispersal system. We hope that Silvermere are delighted with their new Range and that its members will enjoy the benefits of this great addition to their club for many years to come.
https://www.silvermere-golf.co.uk/driving-range-launch-weekend/
Appointments
The company is pleased to announce the appointment of two new members of staff to the Gale Construction team. Mark Aldous joins us as Contracts Supervisor, whilst Linda Twyman has recently taken up her position as Office Administrator. We are delighted to welcome Mark and Linda to the company and we all look forward to working with them in the coming years.
---
Massive Bristol Project Nears Completion
The regeneration and redevelopment of the Abbeywood Shopping Park near Filton in Bristol has been this year's largest project for the company and as Christmas approaches, we are pleased to see the development all ready to welcome the first festive shoppers to enjoy its new retail and leisure facilities. With its distinctive, quirky architectural features, we are sure that Abbeywood will be a familiar and unique destination for shoppers for many years, and we are delighted to have been involved in realising this project.
---
New Gale Construction Website is launched
As you may have noticed, we have re-launched our website this month with a much–needed (and long overdue!) facelift, which we hope provides easier navigation and an overall improved user experience. We have also established our presence on Twitter (@GaleConstLtd) , so we hope you will drop by and say hello, and we'll be delighted to give you a 'follow'!
---
Multi-Storey Car Park Project Underway
At over 110 metres long and eight storeys high, our project to install roofing, cladding and rainwater management systems at Addenbrookes Hospitals new Multi Storey Car Park is a substantial new structure on the skyline of Cambridge. As well as providing ample parking space for visitors to the hospital, the building will be making its own contribution to sustainability in the environment with its large banks of roof mounted photo-voltaics and extensive green roof. As you can see from the photograph, it certainly is a big building!
---